Amsterdam has around 200 coffeeshops today, and as much as it is convenient for regular
coffeeshop visitors, it can get that much more challenging to find the perfect one!

We all need extra help when it comes to navigating through the cool places of Amsterdam, as there are so many! And if you need a suggestion for a new place you have probably never been to before, why not try your luck with The Plug Coffeeshop? It is among the newest additions to the coffeeshop scene of Amsterdam, and it is worth paying a visit!
You will easily find this amazing coffeeshop just a bit south of Central Station, if you walk
towards the west side of the canal ring, lying on the busy street of Nieuwezijds Voorburgwal
("New Side Front Bastion Wall").
Before switching owners, this place was known as Utopia. The new owner, who also runs The
Plug cannabis club in Barcelona, adopted the place in early 2018. His long-time dream was to
open a coffeeshop in Amsterdam, and now his dream has finally come true, at the same time, also making coffeeshop visitors' dreams come true as well!
The interior of The Plug Coffeeshop has a modern and updated charm to it, featuring a long
lounge area with dark walls contemporarily decorated with modern patterns and texture. The
visitors are bound to feel cozy and relaxed in the atmosphere, especially having the large
comfortable leather benches displayed for use. The booths are perfect for friendly gatherings andlong hours of chilling and having fun. The soft lighting only adds up to the luxurious feeling the place radiates, giving it a subtle nightclub look attractive for both locals and tourists.

However, keep in mind this place is pretty small, and it doesn't have the capacity to fit in a huge crowd, but it compensates with a large bar area for ordering cannabis products, basic
refreshments, as well as large windows in the front for a bunch of natural light to come in during relaxing daytime stays.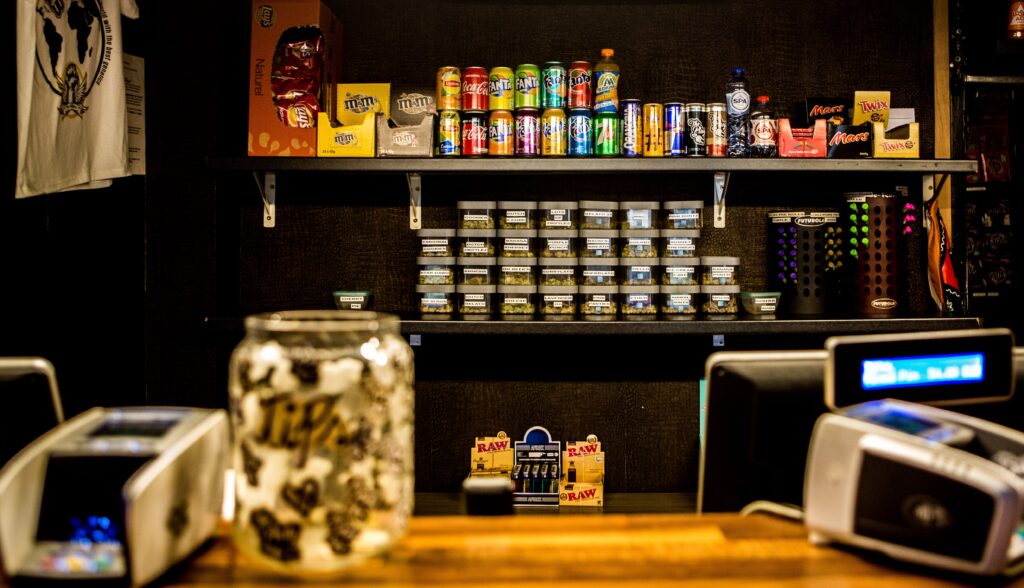 The Plug Coffeeshop has everything a coffeeshop needs to balance out the noise of the busy
outside area and the relaxed, chill atmosphere of the inside. This coffeeshop features a large
picnic table in the outdoor area, perfect for those warm, sunny days when you don't feel like
hiding yourself inside. The music is not too loud and has a relaxing effect on the guests.

The Plug gets so many positive reviews on the cleanliness of the place. The shop is very well
maintained as well, which we all know is one of the main attributes that can be a deal-breaker in other scenarios.

The Plug Coffeeshop offers a large cannabis menu as well, with as many as two dozen weed
strains, among which you will find many contemporary USA genetics, such as Kush strains,
Gorilla Glue, as well as top quality and fairly high priced "Special" section for California
imports.

However, the hashish side of the menu is smaller but has a nice mix of imported and more potent domestic ice-hash (Nederhasj) varieties.
Here you will also be able to find pre-rolled joints and edibles such as muffins and brownies.
If quality matters to you, then do not hesitate to come and try The Plug's products!
[embedyt] https://www.youtube.com/watch?v=txmu3RMpwX0[/embedyt]